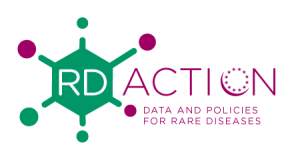 Promoting implementation of recommendations on policy, information and data for RD Joint action
Rare diseases (RD) have been identified as one of the paradigmatic fields in which actions conducted at the European level constitute the adequate response to their specific problems: poor recognition leading to diagnostic delay and inappropriate management including adapted social services, poor health outcomes, social burden, limited knowledge on natural history and pathophysiology leading to an insufficient development of new therapies. The low prevalence and the specificity of RD make that a global, multi-stakeholder approach, intended to gather specific expertise and to build shared strategies is necessary to address these issues.
The general objectives of RD-Action are to:
▪ Support the further development and sustainability of the Orphanet database, the biggest global repository of information on RD
▪ Contribute to solutions to ensure an appropriate codification of RD in health information systems
▪ Continue implementation of the priorities identified in Council Recommendation 2009/C151/02 and the Commission Communication (COM 2008 679) on RD, with a view to ensuring the sustainability of the recommended priority actions and to support the work of the Commission Expert Group on Rare Diseases (CEGRD).
This JA expanded and consolidated the achievements of the former JAs on RD supported by the European Commission: the Orphanet JA and the EUCERD JA. More precisely, this project helped member states to implement the recommended measures adopted or to be adopted by the CEGRD and to produce the data necessary for countries to do so. Interactions between the production of data at the Orphanet database level and the implementation of policy priorities including codification have been  strengthened during this JA.RD-Action large geographical coverage was key to success as it promoted the transfer of European recommendations into national policies and the collection of information and concerns from MS to the CEGRD, thus to the European Commission.
Please read our final leaflet available here.
Geographical coverage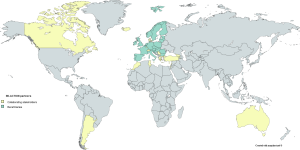 For more information on the institutions of the RD-ACTION consortium, please refer to the Directory section.
Governance